As a member of the English Toastmasters Association, it is Richard's duty and privilege to look after you by providing and maintaining the highest level of service, loyalty and integrity.
To enable him to do this, Richard will undertake to follow the Code of Ethics as prescribed by the English Toastmasters Association.
Testimonials
A kind toastmaster testimonial / recommendation e-mail arrived 3rd July 2010 from Natasha and Rav whose wedding took place over the two days of 24th and 25th April 2010 where I was their Boreham House Toastmaster, Chelmsford, Essex.
Dear Richard, Sorry it has taken so long for us to send this to you, with the honeymoon, moving house and college this is our first opportunity.
It was really nice to sit down and talk about the wedding after it happened. We thoroughly enjoyed our wedding weekend and all our guests loved both days too. We cannot thank you enough for all your advice prior to the wedding and over both days.
Your presence really was an asset and you made our parents and us comfortable. It was great to have you there making sure that everything was seamless.
We originally only booked you for the Civil Ceremony but are so pleased that we also booked you for the Hindu ceremony. You brought a relaxed structure and relieved us of any worries, knowing that you would make sure the day went perfectly as we had planned.
We will not hesitate to recommend you to our friends as we know they will definitely benefit with you involved at their weddings.
We just watched the wedding videos from Harish and they were perfect! Exactly what we wanted, and we booked him on your recommendation.
It would be great to stay in touch and I will be updating you on my progress with the wedding planning! Kind regards Rav and Natasha
A fabulous thank you E-mail from Lisa and Luke relating to their wedding
at Hylands House
on Friday 23rd March 2012,
where I was their toastmaster and then their DJ.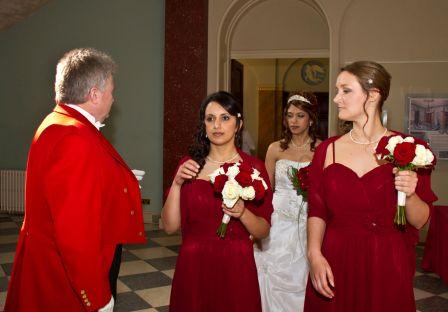 Hi Richard, I hope you are well. We have returned from our honeymoon, which was amazing. We managed to fit so much in!
We'd just like to thank you for your excellent services as Toastmaster and DJ on our wedding day. You were extremely reassuring from the very beginning right up until the end of the day.
Luke and I wouldn't have had a clue what was supposed to happen and at what time, but you made it run so smoothly. Neither of us felt stressed with you there.
The guests have commented on how friendly and brilliant you were. Your relaxed and light-hearted approach to things definitely made us and the guests feel at ease.
We were watching the wedding DVD over the weekend and our video guy had filmed you encouraging the guests to cheer before we arrived at the wedding breakfast. I think all of us at the head table felt very reassured when you spoke after each of our speeches, asking everyone to clap again.
We loved how you got the guests cheering and laughing. That's a real talent!
We really enjoyed the disco, as did everyone. There was music for everyone of all ages and you seemed to have gaged it perfectly. The dance floor was never empty. I was extremely excited when 'The Music Man' came on.
Even in the lead up to the wedding, you were so helpful and it was lovely talking to you the night before the wedding. We really enjoyed getting to know you at the Indian meal too.
It was a fantastic day, and one we'll never forget. Luke's family and my older bridesmaid commented over the weekend how great you were, you were very reassuring and made everyone feel relaxed and part of our big day.
Once again, thank you so much for making our wedding such a special and memorable day. I was so nervous that something would go wrong on the day, but it didn't. It ran smoothly because of you. We have some photos of you, so will send them on.
You're amazing. Thanks again Lisa x and Luke
To discuss your special occasion,
whether it is a wedding or any other event
Please call Richard now on

07971 409977
or
01245 225511 Home
01245 222392 Office